Tomorrow we begin our "Secret Box" challenge! Each student gets a Secret Box. They were told today: This box is for you only – no one can see inside of it! You can keep anything in it – money, secret notes, special things you've found like lucky rocks, 4-leaf clovers, etc. You want to make sure no one can get inside the box but you! Think about plants and animals – how do they protect themselves? Using a plant or an animal as a model, you will add something to your box that will ensure no one gets into it.
​We can't wait to start protecting our boxes with the power of biomimicry!
Powered by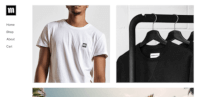 Create your own unique website with customizable templates.